Yesterday I got an invite to install the O2 Ireland "Pass it on" Facebook Application (which also works in Bebo).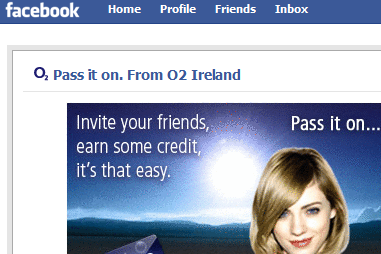 The idea is that if you send invites to your friends you'll get money. 50 cents of credit that is. On Facebook it says you can send 4 invites a week but in the Terms and Conditions on their site it says 2 invites per week. If one of these friends applies for a free SIM card then you get €1. If a friend gets 20 quid in credit then you get a fiver in credit but the murky T&Cs say they must use the app themselves?
c) Level 3: €5.00 will be rewarded to you the first time that a friend that you invited who ordered a SIM through the member get member service purchases credit worth €20 or more. This friend MUST enter their new O2 mobile number into the application for this reward to be applied.
So either you can earn 2 X (€0.5 + €1 +€5) = €13 a week or else 4 X (€0.5 + €1 +€5) = €26 a week. The maximum you can earn is €300 in 6 months. Which is 46 friends.
Without evening checking I would think that takeup on Bebo is going to be a lot better than on Facebook. Looking at the age demographic and employment demographic for Facebook, they are going to have more people on contract than on credit phones and they won't be able to move people as easily to a credit phone either. Bebo of course is different. And the numbers for Facebook and this app: Users:122 monthly active users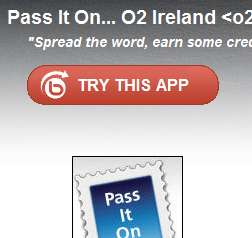 When you look at the same application on Bebo: 1832 users. You can see who they are too. Reading the comments there does seem to be a few issues with the Bebo App platform though. The O2 Application has been on Bebo since March but the numbers are still very impressive. If each install resulted in 4 invites and say 2 sims being sent out per App install then that's 3,664 potential new customers, €3,664 in credit (not real money) being given back for invites and €3,664 in credit when the SIMs were delivered. Given the average spend for those with credit phones, it doesn't sound like a bad investment, once the cost of building the app wasn't too much. Judging by the interaction on the Bebo Profile of the app you'd have to pay for a part-time resource too. 83 comments on the profile, many from O2 themselves.
A nice move though by O2 but I'd have considered it wiser for a different type of campaign on Facebook compared to Bebo.
Would you do anything differently with this? How would you target those you want to sign up for contracts? Offer them premium services?