There are 1.5 Million people using Facebook in Ireland. Almost 1 Million of them use it on a daily basis. There are lots of other stats we can dig out from Facebook and some are below. As of today you can see details of people in cities and get some pretty sweet extra demographics from a system that allows you to get details on age, gender, work, education, interests, birthday and whether they like your brand on Facebook already.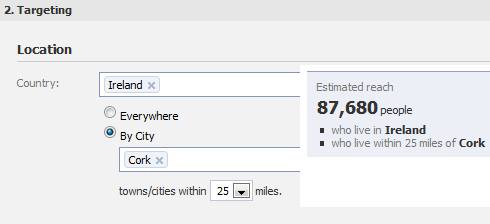 Lots and lots of cities and towns, here's just some for Cork: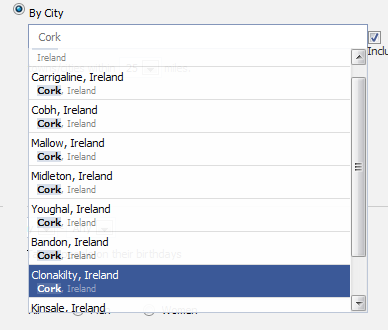 And the healthy stats as of publication:
1,575,720 people who live in Ireland
920,880 who live in Dublin, Cork, Limerick or Galway
699,800 people who live in Dublin
87,560 people who live in Cork
61,040 people who live in Limerick
70,320 people who live in Galway
90,980 people who live in Belfast
With this we can send targeted ads to people that use Facebook. Examples: Offer Leaving Cert grinds to kids in Cork. Offer last minute meal deals to people in Galway that like Italian food. Offer county themed T-Shirts to GAA fans in Donegal. Little bit of imagination and you can see how much fun it can be.
That's ads. Expect to eventually do status updates targeted by Cities and location. Facebook interactions and marketing based on location details is around the corner too so stay tuned. Once you digest that and start to play with the ad system, remind yourself about Foursquare too.